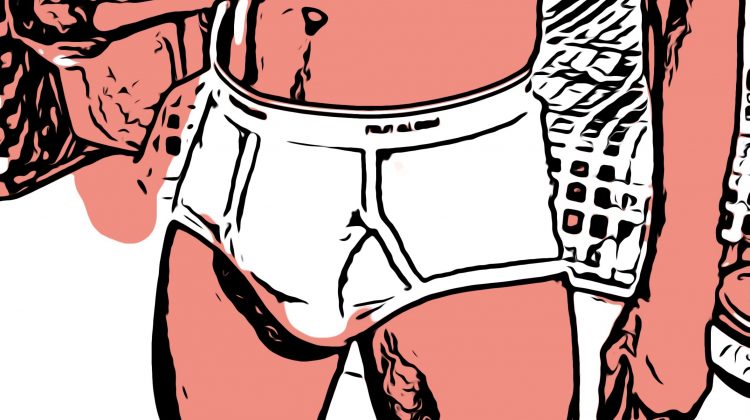 He stood in front of me, naked save for his tighty whities, after removing the robe he'd been wearing a moment before. I was nervous, but I wasn't stopping now. I reached out and with my hand cupped the bulge in his tighty whities, gently at first, then squeezing more firmly. With my other hand I began sliding my fingers inside the fly of his briefs, pushing until I could feel skin against my fingertips. It was his penis. I continued pressing my hand into his fly until my fingers were grasping the shaft. Gently I pulled his penis out through the fly. It was significantly longer than mine, thinner than average, cut, beautiful, and hung there, lengthened slightly by the beginning of an erection, but still quite limp. I had fantasized about reaching into a guy's fly for years, and now I had done it. I could feel my erection growing faster than his.
Kenneth, a new friend I'd met online, had offered to pose for some photos for me with no restrictions at all. It was presumed, on both our parts, to include poses of him in the nude. He wasn't gay, but he wasn't afraid to be seen or touched by another guy. He was very uninhibited, telling me that I could touch him anywhere I needed or wished during the posing process, including undressing him if I wanted, and that he would enjoy it if his penis was explicitly shown in some of the photos. He wasn't a professional model, but he had nothing to hide. Furthermore, I could wear whatever I wanted while I was photographing him — remain fully dressed, strip totally naked, or anything in between. In our online discussions before meeting each other, I had confided that I almost always wore panties rather than men's underwear, and he assured me that I was welcome to work wearing just panties if I wanted. Hot!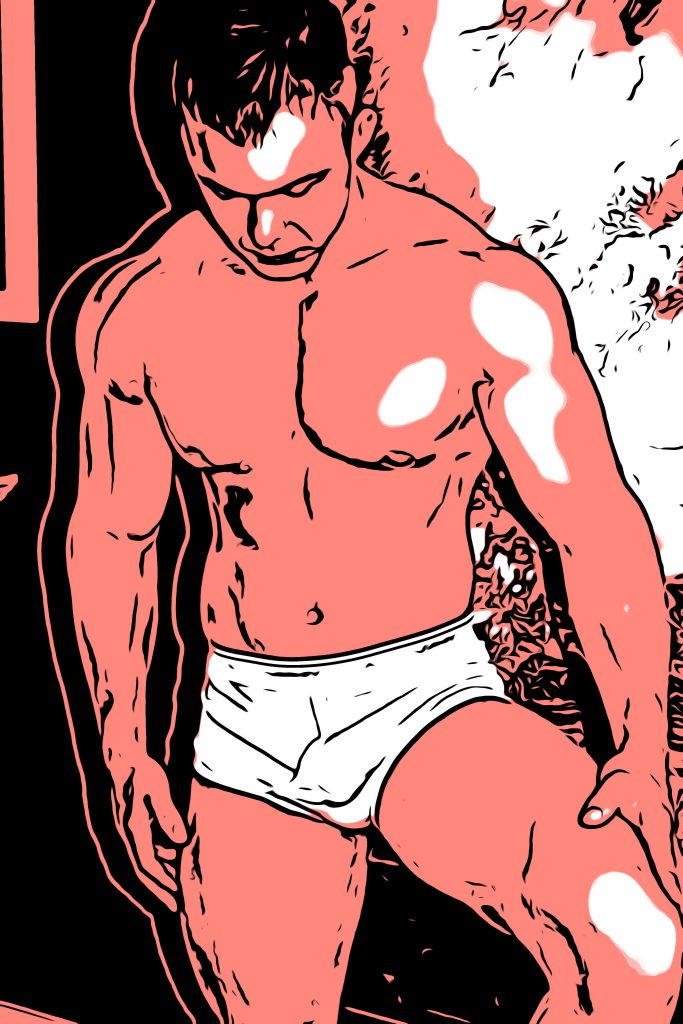 This would be my first encounter of this kind, and I had instantly gotten hard just thinking about what we would do and what he would look like naked — and what it would feel like to work naked or work while wearing just my panties. To say I was excited and looking forward to our photo session would be an understatement.
When I arrived at Kenneth's home, a grand old house in the suburbs of Philadelphia, he greeted me at the front door wearing a well-worn bathrobe with a belt loosely tied at the waist. I had lighting equipment in one hand and my camera gear in the other. He held the door open, inviting me from the entryway into the living room. I put my equipment on the floor near one of the chairs where he motioned for me to have a seat, and he sat down facing me a few feet away, the robe falling open as he sat down. I could see he was wearing tighty whities — and nothing else — under the robe.
Kenneth was a special man and taught me a number of things about male sexuality. We never talked a lot about his past sexual exploits, but he was at least twenty years older than me, nearing 70 I guessed, and although he never bragged about it, it became clear to me that he'd had a lot of sexual experience especially in his younger years. He had been married a long time but had not been sexually active with his wife in many years. They were still married but lived apart most of the time as she was a professor at a university in New York City and stayed there most of the school year. She wasn't home during this or any of my later visits.
He never used slang terms like dick or cock — it was his penis. He always referred to it as his penis, not shyly, I should add, and he wanted me to refer to it — and to mine — as a penis, also. I found that arousing; I had previously referred to mine and others as a dick, or occasionally a cock. But as Kenneth pointed out, penis was the only term that was unambiguous, as well as anatomically correct. When you said "penis," there was no doubt what you were talking about. He preferred that, and, surprisingly to me, I came to prefer that, too, and from the time I began talking with Kenneth have only referred to my penis as my penis. If you say it often enough, it becomes both comfortable yet still arousing.
The other thing I liked about Kenneth was that he was totally comfortable being seen (and photographed) either wearing just his tighty whities or completely naked. Actually, he preferred being naked. He never expressed the slightest sense of embarrassment. It wasn't that he was an exhibitionist — I'm not certain that word would describe him very well. He just wasn't inhibited in any way. At least not around me, but I'm pretty sure he was that way with anyone else who didn't care what he was wearing or not wearing. As we got to know each other over the next few years, it was not at all unusual for him to meet me at the door, especially in warm weather, completely naked. He even posed naked for me outdoors in his semi-private garden several times. It soon became normal for me to get naked, too, as soon as I came into his home, or occasionally to keep just my panties on when I was in a mood to express my more feminine side. (At the time I hadn't started wearing bras or dresses yet — that would come a few years after we'd met.)
Back to our first visit. After some small talk, I began setting up my lights. I had him remove his robe and photographed him in a few different positions around the living room in just his tighty whities, and enjoying that exciting first experience of pulling his penis out through his fly. After a series of poses with his penis exposed that way, I carefully tucked it back in his briefs before sliding his briefs off altogether, and we continued the rest of our session in the living room photographing him fully nude.
He helped me carry my equipment upstairs to his bedroom and elegant four-poster bed for some more nude photography. Now it was time for me to get naked, too, and I wasted no time in removing everything I was wearing, placing my clothes neatly on a chair in the corner of the bedroom, my panties laying on top so I could occasionally steal a glance at them. What a thrill to be totally naked with my nude subject! After an hour or so photographing Kenneth in a wide variety of poses, we were both quite horny and spent some time sprawled on the bed enjoying each other's bodies for reasons other than photography. But more on that later.
My appreciation and turn-on by tighty whities was permanently engraved on my mind that day. White briefs — tighty whities as I prefer to call them — are both a turn-on to view as well as for me to wear, especially when I'm not wearing anything else, or am in a position where I might unintentionally be seen by someone who wouldn't expect to see me naked. That fly in Kenneth's tighty whities was for more than just the convenience of the wearer. Tighty whities would never be the same.