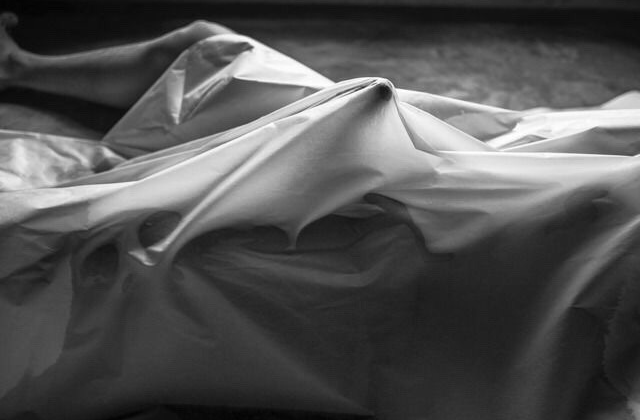 This photo is one of the most erotic I've viewed online in a long time, at least to me. It's a great photograph. I don't know who took it or who it is, but I think most guys (and their partners, no doubt) recognize and relate to it almost immediately.
One of the "privileges" and experiences of being male is waking up with an erection after a good night's sleep — morning wood as it's commonly called.
When I was younger and my male hormones were raging, morning wood was pretty much a daily occurrence. Sometimes it was an embarrassment — it lasted well after I had to get out of bed, and would often return while I was shaving or showering, especially when I was young and overly sensitive to my partner seeing me hard without any obvious provocation. Young and naive — oh, those were the days.
Lying on your back and tenting the sheet like this guy is — it would feel so good, both being hard and having that bit of pressure on the most sensitive part of your penis, especially when you moved a little. Sometimes it didn't take more than a little hip thrusting, especially under a heavier comforter or blanket, and soon you were ready to explode and would have to move to protect the sheets from spilling cum all over them. Oh, those were the days.
Whether it's from not sleeping well, or age, or low T, I don't wake up with morning wood nearly as often as I did when I was young. It still happens occasionally, and it's so good to stroke or strum myself off to begin my day, but I'm lucky if that happens once or twice a month anymore. But in my twenties … oh, those were the days.